Get Access To Insider Knowledge Covering Multiple Areas Of Real Estate And Investing And What's Working In Today's Market!
We got a group of expert investors together in the middle of a pandemic to teach you how to choose what types of investments work best for you, and how to avoid the costly mistakes that trip up most beginner investors. Access the full suite of recordings that cover:
Money mindset
Networking and relationship building
Investing in the stock market
Wholesaling real estate
Short term rentals
Mobile home investment
Investing in the hood
You'll learn it all from experts who are successful in these areas every single day. If you are looking to start in real estate and investing, this will absolutely save AND make you a mountain of wealth over the course of your lifetime.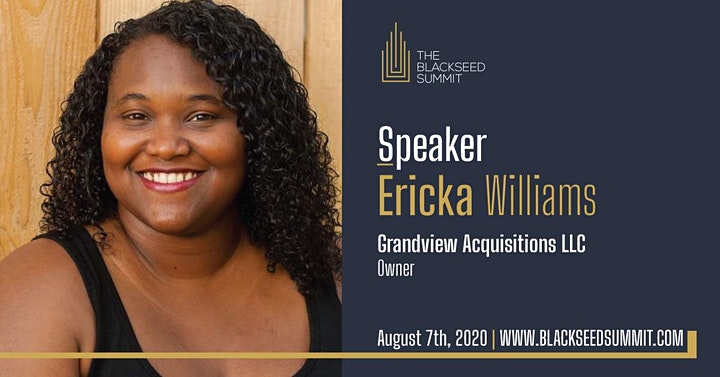 Ericka Williams
First introduced to family investments growing up and learning where to put extra income for returns, Ericka Williams grew up to become a 6 figure YouTuber and Investment club owner. She began using YouTube to share how people could invest in people, businesses, and real estate from the palm of their hand. Ericka is joining Blackseed Summit to provide a valuable perspective on investing now and into the future. She will be showing how media can be used to grow your company and business. Her goal is to impact 100,000 families helping them 10x their investments and learn how to thrive in the new economy.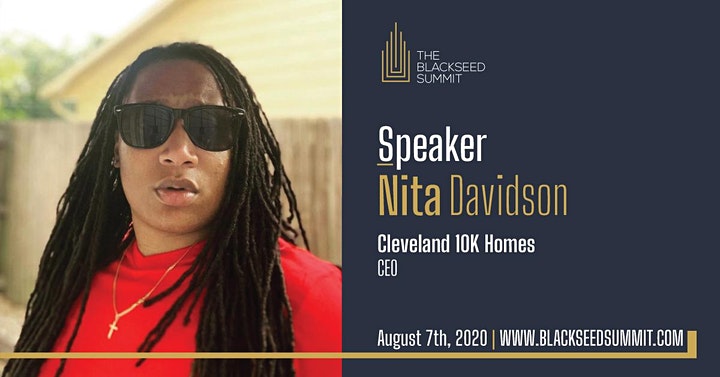 Nita Davidson
Nita "Cousin Nita" Davidson is a real estate investor and educator from Cleveland, Oh specializing in wholesaling, a strategy that allowed her to acquire real estate with NO CASH or CREDIT. Nita is a native Clevelander with a heart for the city and its residents; her goal is create happy, healthy neighborhoods for the people of Cleveland. After mastering the wholesale strategy, Nita has been able to automate and scale her business to include rehab projects and rental properties. With a passion for the people and the knowledge to go along, Nita is determined to help educate and empower people around the power of real estate.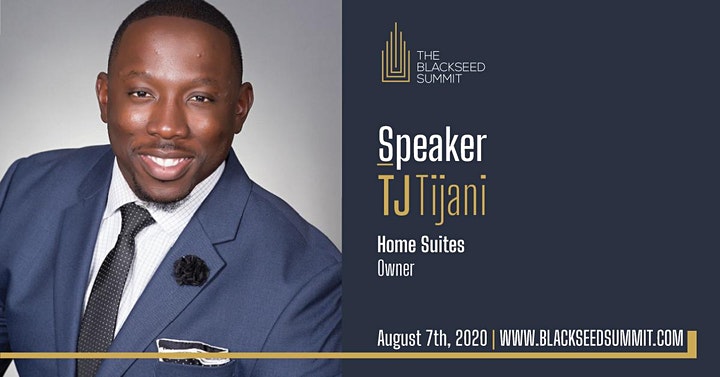 TJ Tijani
TJ Tijani is a real estate investor primarily focused on short term rentals. We serve mainly medical travelers, business travelers, and large groups. Investing was first introduced to TJ after college after reading rich dad, poor dad.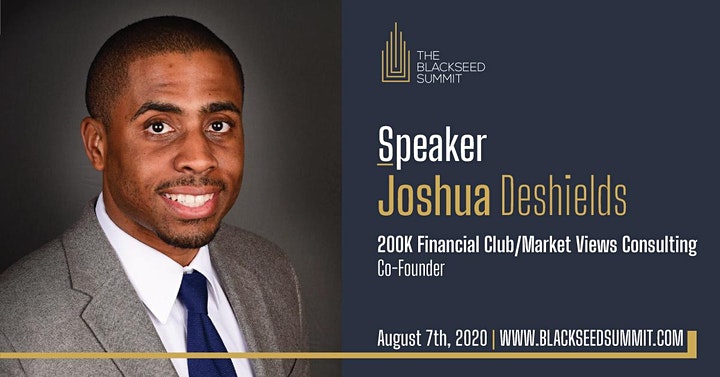 Josh Deshields
Joshua Deshields is a financial literacy advocate and stock market & real estate investor. He works at a wealth management company for his corporate gig. In his spare time, he likes to study the stock market, look for real estate opportunities, and other ways he can bring value to clients and potential clients.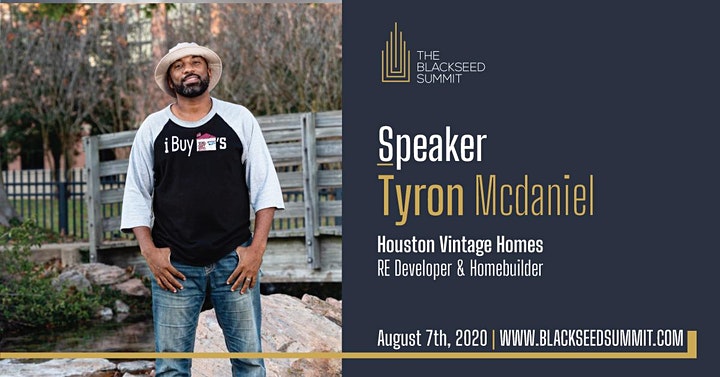 Tyron McDaniel
Tyron Mcdaniel is an Urban Real Estate Developer, Homebuilder & Designer focused on developing Inner City communities and Affordable Housing solutions! He founded Houston Vintage Homes with the mission of reshaping the face of Inner City Houston! Tyron believe in the mission and the founder of the Blackseed Summit and views this event as a catalyst of growth for many people! Investing was first introduced to him by his father who he watched and worked alongside in his business as a kid!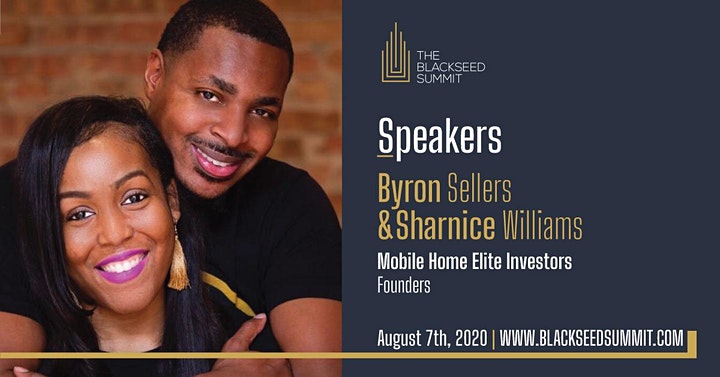 Byron Sellers & Sharnice Williams
The couple has built a moblie home portfolio and developed the top educational platform online to educate investors on the industry.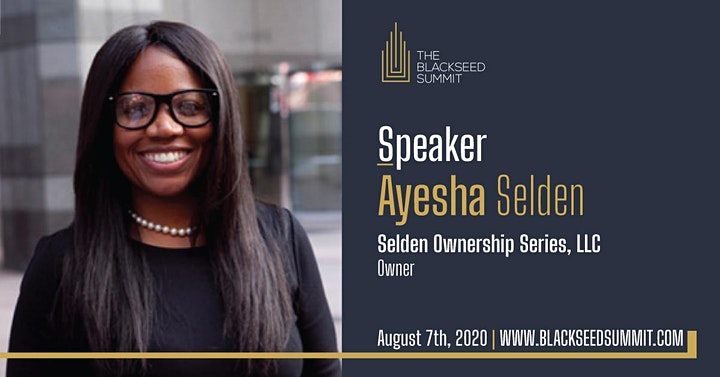 Ayesha Seldon
Ayesha Selden is a private wealth advisor with a Fortune 500 company that is among the top 25 largest asset managers in the world. In 1998, while pursuing an Economics and Marketing degree at Temple University's Fox School of Business, Ayesha was introduced to the financial services industry—via banking. She started her career with her firm in 2000 and has had various roles within her organization over the years, including financial advisor, district manager, and the first female African-American Field Vice President in the firm's history.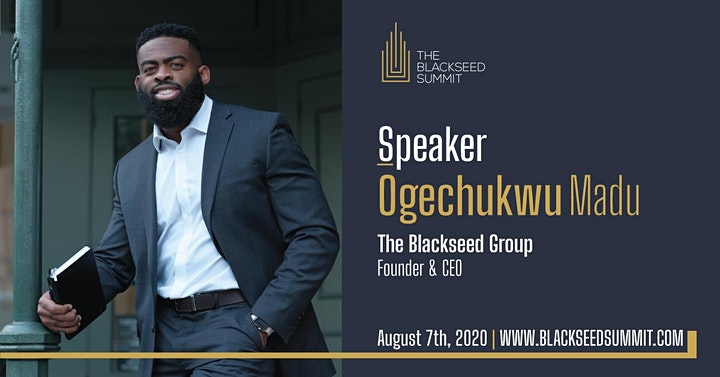 Ogechukwu Madu
Ogechukwu Madu is a real estate investor, an author, and a multi-faceted entrepreneur. Madu increases investor finances by providing access to The Blackseed Group investment vehicles: Blackseed360 membership platform, BlackseedShares, and Blackseed Revitalization Fund I. In 2017, Ogechukwu wrote, "10 Reasons Why You Are Living Centsless", highlighting areas where young adults are overspending, while providing practical tips the reader can put to use. He affirms that everyone should invest. Be it in real estate, stocks, or lifestyle choices and education, Ogechukwu promotes growth.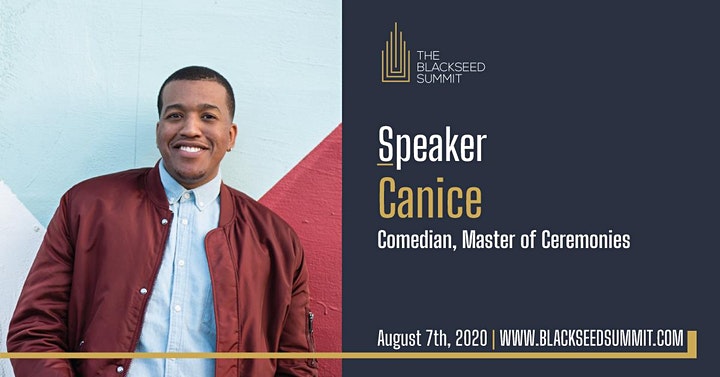 Canice has appeared on MTV, Sway in the Morning Show, CBS Sports Radio, Buzzfeed, wrote for NBC affiliate Houston Sports Show on KPRC, performed on the Tom Joyner Cruise, and performed alongside Ruben Studdard, Slick Rick, Lil Duval, Michael Blackson, & Amanda Seales. He is a stand-up Comedian, Actor, international television personality, Television writer, voice-over artist, & event emcee. He has often made appearances for Colleges, Comedy Clubs, Television, Cruises, & Corporate events.
Looking To Watch Just Individual Sessions?
Choose which speaker you want to learn the most from below.
EXAMPLE